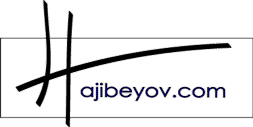 No Time
A Satire by Uzeyir Hajibeyov

This is a short satirical vignette by Uzeyir Hajibeyov, reflecting on how difficult it is to get people to organize and get something done.

Republished in "Uzeyir Hajibeyov: Selected Works", Baku: 1985, pages 453-454, Azeri (Cyrillic). Publishing House "Yazichi" - 1985. Courtesy: Hajibeyov Home Museum, Baku. Director Saadat Garabaghli. Translated by Farida Sadikhova and edited by Betty Blair. Prepared for Web by Arzu Aghayeva. © Azerbaijan International. Copyright 2001. All rights reserved.

Below: Uzeyir Hajibeyov (1885-1948) in his home in Baku, 1940s.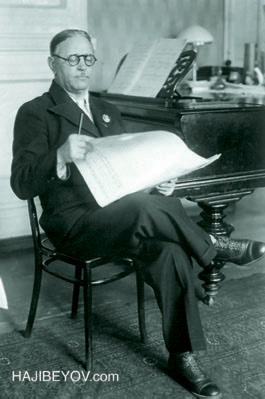 "So, what are you saying now? Do we need this work or not?"
"Of course, we do. We have to do it no matter what."
"So you're all for it and ready to sign."
"Of course, of course, we have thousands of problems, thousands of difficulties. We have to get together and talk, and do what needs to be done.

Let's discuss what to do. Let's work, let's try and do our best. While other nations live good lives and have everything in order, we live in disorder, and we don't even attempt to put our things in order. That's why we are called miserable and blamed for what we are. No doubt, this work is important for us and it's our duty to do it..."
"Very good, great. Now, let's get down to work. First we have to organize a committee to compile an overview of the task at hand, right? "

"That's right! "



"Five or six people should be sufficient. You be one of them."

"Who, me?! Honest to God, I don't have time. Don't put my name, put Jafar's."
"Who, me? I swear on my father's grave, I have no time either. Please excuse me. Mr. Hasan is good at these kinds of things."
"Me? God curse me if I have time even to scratch my head. Write Mr. Mursa's name there."
"Me?! You mean, me? 'May Khorasan, where I have visited, break my back' [holy city in Iran, expression used as an oath] if I sleep even three hours in 24. I'm up to my ears with work, so please excuse me. I have no time. Why don't you write Ahmad Afandi ("afandi" was a polite form of address. Today in Azerbaijan, the word, "muallim" - teacher is used)."
"Gentlemen, I know you won't believe me, but I swear, I'm so busy with my work that I haven't had have a chance to eat lunch yet. Believe it or not, but please excuse me."
"Hey, this is just the beginning of the task, and you're all running away from it already. What will happen when there really is work to do? Congratulations! And we blame ourselves for being miserable and for others being ahead of us. It turns out that all you can do is talk nonsense."
"What can we do? We have no time."
"No, you have the time, you just don't have the passion for the job. You don't have commitment in your hearts..."
Ravi [a person known for being a good story teller] tells the following tale:

"One day I was passing by a house at about 5 o'clock in the evening. I saw the lights in the window. I said, 'Hey, man, what is so important in the house that they haven't gone to bed yet. I strained my ears to hear, but I couldn't figure out anything. But I could hear some sounds like: "I'm giving...a big one...carpet...One abbasi... Sabunchu... Lady's slips..." I didn't understand anything from those words. I wanted to listen more, but unfortunately I had no time."
[Meaning the person catches only isolated phrases and can't understand what is going on at all but doesn't take the time to learn. Sabunchu is a district in Baku (like Sabayil, Binagadi and others). At that time 20 kopeks was called an "abbasi" after Shah Abbas.]

© Azerbaijan International. Copyright 2001. All rights reserved.