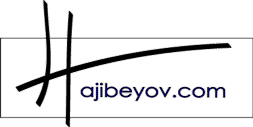 Meeting of Azeris
A Satire by Uzeyir Hajibeyov
pre-Revolution (before 1917)

Courtesy: Hajibeyov Home Museum, Baku. Director Saadat Garabaghli.
Some Azeris wanted to get together to discuss a very important question. A meeting that had been set for 10 o'clock that morning was postponed until 4 o'clock in the afternoon because one of the members had a doctor's appointment, another had to go to the bathroom, a third one was angry, a fourth one had "some small thing to do". The fifth, sixth, seventh and the rest - God knows what they had to do.
The inertia on the faces of some of the members spread to the others, and they all sat silently with their heads down. Then one of them turned to his friend and started talking quietly. Their quiet laughter attracted another friend's attention and he soon joined them. Then a fourth member joined them. Then a fifth and the sixth members joined the conversation, too.
They postponed the discussion of main issue and began talking until tea was served. They talked about a skirmish between two Azeris in the market, saying that Sijimgulu should have been quicker not to let the tall Jabi beat him up.
Then they talked about newspapers. Everybody agreed that newspaper were a good thing except that they reveal people's shortcomings, which is not good, because everybody has shortcomings, which is only natural.
Everybody was waiting for tea to be served. Eventually it came. The group became elated and they forgot about their melancholy and sadness. Everybody was eager for tea. While drinking their tea, they all decided to choose a chairman before they starting the discussion of their very important issue.
One of the members who wanted to be a chairman stood up and said: "People, you all know that the job we want to undertake is very important, and that's why we have to choose a chairman who will tell us what to do."
Group: "Of course, of course."
Another member: "No, we don't have to follow all the instructions of the chairman. His duty is to keep order here so that everybody has the chance to speak. After that, he can judge which party is right."
Previous member (angrily): I beg you to pay attention to the age of people sitting around here. The older members must be allowed to speak first. Then the younger people can speak, too.
Some people: "Yes, exactly."
Some of the members: "What do you mean? We don't have to pay homage to age here, everybody is free to speak."
Another member (supporting the previous member): "Excuse me, if everybody is allowed to speak here, then this will turn into an Armenian village, not a meeting."
Most of the people (resenting that statement) said: "Hey, why are you swearing?"
One of them (speaking aside): "WheneverAzeris get together, it's always like this."
One of the group: "Don't speak nonsense here. Let's choose a chairman, and then let's talk about it. Come on, let's wrap it up, time is passing. Well, I say let's choose Najafali as our chairman. What do you say?"
People: "We're for it." (Those who wanted to become the chairman themselves were put off.)
The same member: "Fine. Uncle Haji Najafali is our Chairman. Settled! Now, Mashadi Hasangulu, stand up and tell us what you want to say."
Mashadi Hasangulu (embarrassed): "I have nothing to say yet..."
The same member: "Fine, sit down. Now, Karbalayi Naghi, you speak... You don't have anything to say either? Very good! Mirza Mammad, tell us what's up!"
Mirza Mammad: "First of all, I want to ask why we've chosen a chairman."
The same member: "Hey you, what are you talking about? A meeting has to have a chairman. What kind of nonsense are you talking about?"
One of the members: "OK, since Haji is our chairman, what are you doing?"
The same member: "How dare you speak to me like that!"
Supporter of that member: "Hey you, mind your own business!"
Another member (turning to his supporter): "Hey, who are you man? What do you mean, 'Mind your own business'?"
Supporter of the supporters: "I beg you, stop it!"
Supporter of another member: "Look, everybody is speaking!"
Supporter of supporter's supporter (angrily): "Exactly!"
Supporter of a supporter of another member: "Mind your language, or I'll knock your brains out!"
That party: "Hey you! Whose brains are you going to knock out?"
This party: "Yours!"
That party: "Come on, I dare you!"
At that moment, those who were neutral interrupted by saying, "Come on, stop it, this is shameful." They tried to calm down both parties. After it got quiet, since it was already late, the discussion of the important issue was postponed until another time.
First the members of one faction left, then the other faction. Then those who had been neutral followed them out, to keep the factions from attacking each other again outside.
The settlement of the important issue was postponed indefinitely.
__________
Republished in "Selected Works by Uzeyir Hajibeyov". Compiled by Mirabbas Aslanov, edited by Mirza Ibrahimov. Baku: Yazichi Press, (in Azeri Cyrillic). Pages 292-295, 1985.
Translated from Azeri Cyrillic by Farida Sadikhova. Edited in English by Betty Blair. Designed for Web by Arzu Aghayeva.


© Azerbaijan International. Copyright 2001. All rights reserved.