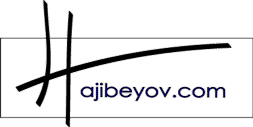 Introduction to the Letters of Uzeyir Hajibeyov
Setting the Record Straight
by Ramazan Khalilov (1900-1999)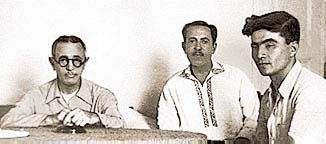 Photo: (left to right) Azerbaijani composer Uzeyir Hajibeyov (1885-1948), Ramazan Khalilov (Uzeyir's deputy at the Music Conservatory who later became the Director of the Hajibeyov Home Museum in Baku, 1900-1999), and the composer Suleyman Alasgarov (1924-2001). Photo around 1945. Courtesy of Ramazan Khalilov and the Hajibeyov Home Museum.
"Adabiyyat va Injasanat" (Literature and Art, newspaper), November 4, 1988. NO 45 (2336). Courtesy: Hajibeyov Home Museum, Baku. Director Saadat Garabaghli.
This is the introduction that Ramazan Khalilov wrote when he published Uzeyir's letters in the newspaper in 1988 [when he was 88 years old]. Ramazan was Uzeyir's relative by marriage. His mother and the mother of Uzeyir's wife Maleyka were sisters. Ramazan was Uzeyir's personal assistant at Baku's Music Conservatory. Upon Uzeyir's death in 1948 , Ramazan became, what he proudly called, "the Executor of His [Uzeyir's] will" and directed the Uzeyir Hajibeyov Home Museum after it opened in 1975 until the end of his life in 1999.
Translated from Azeri (Cyrillic) to English by Farida Sadikhova for HAJIBEYOV.com, a Website created by Azerbaijan International to "Celebrate the Legacy of Azerbaijani Composer Uzeyir Hajibeyov." Editor Betty Blair.
© 2001 Azerbaijan International
_____
Ramazan Khalilov wrote:
Some people have published various articles in the press over the years, describing the financial aid that was given to Uzeyir Hajibeyov by various people while he was studying at the Moscow Conservatory in 1912-1914 and later on in Petersburg Conservatory.
Some people even wrote that Jabbar Garyaghdi, who went to Warsaw to make LP records, gave some concerts there and presented the earnings to Uzeyir bey.
When Uzeyir bey's faithful wife, Maleyka khanim, was alive, she was able to counter these false claims. From his very childhood, Uzeyir bey had undertaken the burden of taking care of his large family which included his mother, his two sisters (one of them was left widowed with four kids), his elder brother Zulfugar (1884-1950) with his family, and his younger brother Jeyhun (1891-1962) along with his family. This large family lived on Uzeyir's small honorarium earned from performances of his operas. The Nijat Society ruthlessly exploited the composer's works giving him only a scant amount of the benefit.
That's why during his stay in Moscow and Petersburg, Uzeyir bey suffered so much financially. Despite his very simple life, there were times when Uzeyir went even without bread. Maleyka khanim, who was working in Baku at that time, was a great support to him. In addition to her regular salary of 75 manats that she was getting from teaching in secondary school in Baku, she taught private classes to make extra money. The money that was earned went first of all to his family, and then to cover Uzeyir bey's expenses.
Works done with Nijat Society, and the staging of his operettas was entrusted to Uzeyir bey's close friend and brother-in-law Muslim Magomayev (1885-1937). Magomayev's reply to one of Uzeyir bey's letters says: "I see that you can't work calmly - that family concerns make you worry. I'm taking this care on my shoulders, believe me, everything will be all right. Please work and practice." The entire family expected help from Uzeyir bey.
Uzeyir bey missed Maleyka khanim [while in Russia]. He wrote her asking her to come to Petersburg. "You can earn the same money here as you do in Baku." Maleyka khanim's elder sister Husnujamal helped her to go to Moscow. She was helping the young family financially before, too, to which Uzeyir bey's letters bear proof.
To put an end to false rumors, I thought it was my duty to publish Uzeyir bey's letters from Moscow to his brother Jeyhun. Uzeyir bey writes in detail about his financial difficulties. It is clear from the letters that Uzeyir bey was privately tutoring, while Maleyka khanim was teaching in the Russian-Tatar school. The salary they received did not quite cover the rent, food and other expenses. Uzeyir bey himself states in the letter that they pawned all of Maleyka khanim's jewelry, her clothes and even his violin (which currently is exhibited in Hajibeyov's Home Museum). Uzeyir bey dearly loved his younger brother [Jeyhun]. The letters addressed to him are full of sincere feelings for his dear brother.
The author of these lines, Ramazan Khalilov (1900-1999), Director of Uzeyir Hajibeyov Home Museum has carefully saved many letters that have not been published up to now. We consider it our duty to publish these letters and make them available for the readers.

Home | Music | Librettos | Biography | Links | About Us | Contact Us | Store

© Azerbaijan International. Copyright 2001. All rights reserved.