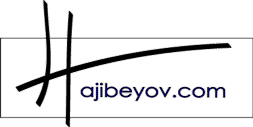 Struggles with Poverty
Letter from Uzeyir Hajibeyov to his Brother Jeyhun
Moscow, 1912




Editor: Uzeyir Hajibeyov studied in Moscow in 1912. Everyone used to note how protective he was of his time. The very fact that he wrote so many details to his brother Jeyhun in Baku about the pressure he was feeling in not having sufficient money for basic needs there shows how exhausting and worrisome this problem was for him. It also explains why Uzeyir later on was so generous to students with his own funds.

Photo: Uzeyir Hajibeyov, 1914 (age 29).


Source: "Adabiyyat va Injasanat" (Reprinted in "Literature and Art" newspaper, November 4, 1988. NO 45, 2336.)
Courtesy: Hajibeyov Home Museum, Baku. Director Saadat Garabaghli. Translated from Azeri Cyrillic into English in October 2001 by Farida Sadikhova, Azerbaijan International Staff.
________
Light of my eye [Nuri-dida], Jeyhun!
From now on, I'll be writing you about our situation here every day or so. Of course, don't lose these papers. Give them to Jamal so that he keeps them because I might need them in future.
Before we received our December money, we were in a bad situation because we had not paid money to the place where we ate with our landlord. So, every day our landlord, who was Jew, would knock at our door and then would walk in with his hands in his pockets demanding money. We would answer by saying that probably today we would receive our funds. As we were used to the landlord's regular visits, we didn't feel so pressured.
But one day I returned from the bazaar (market) and went down to my music class. Maleyka [his wife] was giving a class to her cousin Amina and her friend Zahida (these girls come to our place every day to study). Suddenly I saw that the Jew's ill-willed wife was poking her head in and shouting, "When are you going to pay? You say 'Tomorrow, tomorrow' to us every day!" I immediately went out and told the woman, "You don't have any right to demand money from me in the presence of others."
I said these harsh words to her and then returned. I saw that Maleyka was confused about what had happened in the presence of the girls and she did not know how to change the subject. I was very upset, too. I felt even worse.
If we had anyone here, I would have borrowed money from them and paid the landlord. And then I would have sworn to our hearts' content and moved out. But, unfortunately, there was no such a person in Moscow. I could rely on Khudadad but he was in Karabakh. There was also an Iranian (my Baku acquaintance) Mahammad Sadigh Aliyev. But I knew that he didn't have any money either because I owed him one manat. He had come to see me a few days earlier. He didn't talk about money but his face was not shaven. I realized he did not have any money. I didn't have any either.
He left in distress. Anyway, Maleyka finished her class with the girls and said goodbye to them. We two remained in the room looking at each other. Maleyka said, "I don't know if the girls understood what happened or not." I would never have wanted our Moscow relatives to know about our condition.
Then we decided to go out, first to have some dinner and then to walk a little to relax. It was 4 pm when we reached the place where we would have dinner. The doorkeeper Ivan took us upstairs. We would not have eaten if we could have done otherwise because it had already been so long that we hadn't paid Mariya Timofeyevna even though she never demanded money from us.
But sometimes she would let us know somehow that she herself was in need of money. That's why we didn't enjoy our meals. Especially, after we ate, we didn't know how to forget the issue.
Anyway, we rang the doorbell. A servant Sasha opened the door. Mariya Timofeyevna's husband, a young man of 60 years old, was running up and down the hallway like a kid. We somehow ate dinner. The woman was expecting money from us. But when she realized that we had no money, she left for the bazaar.
We didn't want to go back home after dinner because we knew that the landlord would demand money from us again. So we decided to first go and find out from the doorman if the postman had come. If he hadn't, then we would go to the Aliyevs to ask for money. We walked towards the house and asked the doorkeeper who told us that nobody had come. We came back upset. We began to walk through the city. But it's not good to walk in the city with no money. Everything that you want is in front of your eyes, but you have no money in your pocket to buy anything.
And then Moscow's beggars started following us, begging for money. If I said that there are no beggars more impudent than Moscow beggars, I would not be mistaken. They stick like a leech. And, besides, there are so many of them. As ill luck would have it, wherever there are beggars, as soon as they see us, they rush towards us. What a pathetic state of poverty and despair we were in. On the one side are beggars, on the other are the horse carriage drivers saying, "Baron, let's go". And on the other, flower vendors poke flowers into our faces saying "Buy!" That makes us feel even worse.
So, we walked a little and then decided to go find Aliyev and borrow some money from him so that at least we could shut the mouth of the landlord. I told Maleyka, "Let me take you home and I'll go myself." So I took her home and at the door inquired about the postman from the doorkeeper. But he said that nobody had come.
Alone I walked toward the street where Aliyev lived. On my way I started thinking how I was going to ask for money. I felt embarrassed and ashamed. Besides, I owed him 1000 manats. Anyway. My mind was filled with dark thoughts. To crown all this mischief, we had neither sugar nor bread left for breakfast. At this moment, a black cart passed by me very quickly. People were dressed in black, horses were black, everything was black. I became afraid. I said, "This is a bad omen" and I wanted to return. But then I calmed myself down.
Then I remembered Wagner's autobiography. I consoled myself that the poverty that he, as such a great man, had suffered was much more difficult than mine. At least I could expect money from someone some place, but that poor guy couldn't expect money from anybody while living in Paris.
He remained hungry with his wife. I continued my way to Aliyev but soon discovered that he was not at home. I returned and sat in one of the tram stops to get a little rest home. Again I asked the doorkeeper about the postman. He replied that nobody had come. I wondered whether to go home or not. Maleyka was waiting for the money. But there was no money.
I decided to walk for awhile until she fell asleep because it was already 10 pm. But I thought maybe the landlord was fighting with Maleyka and swearing at her with harsh words. This thought made me rush home. I walked in and I saw Maleyka sitting there, upset. She became even more upset after she found out what had happened. We locked the door quickly so that landlord couldn't walk on us.
As a result of these black thoughts, we both had disturbing bad dreams that awakened us. We got up at 10 am the next morning. We were very upset because we still had not received the money. Besides, we had no sugar, no tea, no bread. It was the 11th. The next day would be the last day of the month to pay the landlord, and then a new month would begin. But we hadn't even paid for the previous month.
The doorbell rang. I thought maybe it was the postman bringing us the money. But instead it was a servant who said that someone wanted to see us. As soon as I raid eyes on the man, I knew who he was. He had come for money, too. He brought a note from the piano store. It read, "Mr. Hajiyev, we are warning you again that the time for payment of the piano expired last month. You haven't paid us yet. If you don't pay today, we'll send someone to take away the piano tomorrow.'
I said OK and told the messenger goodbye. I saw that Maleyka was worried that the landlord might return. This saddened me because I could not even ensure the comfort of my wife, and as a man I could not do anything to alleviate the situation without money. With this thought I went to see the landlord. I seriously warned him that he shouldn't bother us until the 15th. I brought up the subject of his wife's behavior the day before and reprimanded him a bit. He saw that I was very angry. He complained a little while and said that I should pay for a month, at least. The landlord assured me that he would not bother us for the next five days, I told Maleyka about what had happened.
Then we had a problem with tea. In the past there had been times when we had not found bread for our breakfast tea. In that case, we would sip the tea with sugar until dinnertime came. But now we had no sugar to chew and sip with the tea. We were able to scrape together only nine kopecks. Maleyka gave them to me and said that half should go to buy sugar and the rest to buy bread. I unwillingly put the bottles in the pocket of my coat. But I knew that I wouldn't get money for them because normally you had to add money on the top of the amount received for the return of the bottle to be able to buy milk.
I thought maybe we should try to take some stuff to pawn. But then I remembered that we had already pawned everything that we owned. All the Maleyka's silver and golden jewelry, my violin, my coat, Maleyka's summer coat. So, we didn't have anything else to pawn. At this moment an idea crossed my mind. I didn't tell my idea to Maleyka, I simply left.
You prepare tea, I'm leaving." My idea was to borrow some money from the doorkeeper. I asked the doorkeeper, "Didn't the postman bring money?" He said, "No." I then proposed, "Then give me three manats. When I get money, I'll pay you two manats extra. The doorkeeper didn't say a word and pulled five manats out of his pocket and replied, "Give the change later." I put the money in my pocket and felt that my eyes kind of lit up.
With a happy heart, I went to bazaar and bought sugar, tea, bread, butter and a few newspapers. I returned home. Maleyka had already prepared the samovar and was waiting for me. She was surprised on seeing all the stuff that I had bought. When she found out where I got money from, she got upset. Anyway, we had tea.
Then I remembered about Mirza, the son of Shamsi Asadullayev. Mirza had been taking Turk [Azeri] classes from me. After a week of lessons, he had told me that he wouldn't be able to study for a few days. I asked him to call me when he needed me again. Five-six days had passed. Mirza had not called on me. Today I remembered him and said, "Why don't I go and check if he is going to continue his studies or not."
I walked to their office and asked the doorkeeper if I could see Mirza. He said that Mirza had left for Baku quite some time ago. I was surprised. I asked, "What about the manager?" He asked me to wait a little while for him to come. Yusif bey Vazirov came out. He was the manager, the son of Hasan bey from Karabakh. Yusif greeted me and told me that Mirza had left 15 manats for me. "I didn't know your address to be able to send it to you."
I was so happy. I talked to Yusif bey for a while and asked him to let me know if there were any job openings in their office. He promised to do so. I took the 15 manats and went home happily. Maleyka was even happier. I gave the three manats back to the doorkeeper, and told him that I would return the remaining two manats when my money arrived. Then Maleyka told me that her elder uncle had invited us to dinner the next day. These days we are very careful about spending the money that we have on hand. I'll write more. Say hello and give our prayers to the whole family.
Uzeyir
Moscow, 1912

Home | Music | Librettos | Biography | Links | About Us | Contact Us | Store

© Azerbaijan International. Copyright 2001. All rights reserved.